The focus of Jesuit education is not mere imparting information but holistic formation of the individuals culminating in leadership with social responsibility. LICET assumes that each student is a potential leader who could be shaped up.
The following are the five pillars of LICET methodology in moulding and forming the students:
LICET prepares the students as per the prescribed syllabi of the affiliating Anna University. But the academic system followed at LICET is a hybrid and an enhanced one, that is, learning in the classroom combined with hands-on experience both in the lab and in the industries. The academic excellence would get ever better. Two of LICET students, David Jose and Joe Mike Prakash, of the first batch, secured Anna University ranks.

LICET students excel in professionalism: : Through collaboration with the industries and exposure to project management as well as companies, LICET students are helped to reduce the skill-gap between academic information and professional expertise. We gratefully acknowledge the interest and efforts of many industries to accompany our students during the in-plant training and project work in the industry. The Placement Cell is constantly working on effective placement of our students.

Through system discovery program, the students are introduced to the inside-story of gadgets, starting from household gadgets, through laptops, to two-wheelers, auto-rickshaws, automobiles etc. They are trained not only to dismantle the instrument and the gadgets but also to study the function of each component and finally to put back the components in place. In this adventure, both the faculty as well as experts from workshops assist our students.

Already two of our students have become entrepreneurs: Deepak John has started his company Pupa Clic. Venkatesh Sai has co-promoted Sree Sai Aero Tech Innovation, which has been acknowledged to be among the top 15 companies in India by CNBC, a National Business Channel; and has won award in a National Level Competition organized by Confederation of Indian Industries (CII). Four of our students have applied for patents for their discovery. A few have spread wings to continue with their higher studies all over the world: 7 in ICAM (France), two in Fairfield University (USA), two in Newcastle University (UK), one in St Joseph's University (USA), and one in Australia

Through personality development, our students are formed as leaders by gaining insight, foresight, and far-sight in Time-Management and Stress-Management, Motivation and Goal-Setting, Value-based outlook of life, Effective Communication and Team-Building etc. Foundation Courses bring out the best from each student to emerge as a leader of technology.

There are ample opportunities for international exposure through student-exchange programs as well as higher studies in universities abroad to gain confidence to face the future with preparedness and readiness. Apart from ICAM in France, our students have opportunities to go to USA, Germany, and Spain for summer internship and many are already in France, USA, UK, and Australia for higher studies.
 In a world of economic and technological race, LICET students are moulded with God-quotient. The Catholics have periodical Mass and Retreats, while others through motivational talks and discussions, are formed to be men and women of compassion serving people in need. 'Center of Peace', the common prayer hall, is open to students of all faiths to pray and spend time in meditation.
The primary aim of the College is to provide University education in a Christian atmosphere to deserving students, especially those belonging to the Catholic Christian Community. Although this college is meant primarily for Catholics, it does admit other students irrespective of their caste and creed.
The college aims at training young men and women of quality to be leaders in all walks of life and serve their fellowmen with justice, truth and love. It is expected that this training would play a vital role in bringing about the desired change for the betterment of the people of our country, more particularly the poorer and marginalized sections of the society and Dalits. Further it will foster an atmosphere of intellectual vigour and moral rectitude in which the young men and women of our country may find their fulfillment and achieve greatness as eminent men and women for others.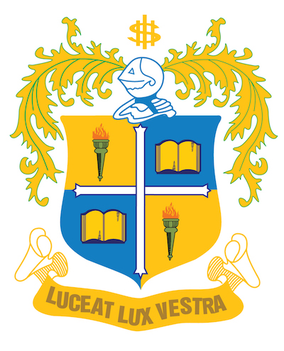 The Coat of arms of the college consists of a shield divided into four quarters with a torch and an open book motif. The crest is the monogram and seal of the Society of Jesus : IHS, are the first three letters of the Greek name for JESUS. The open book and the burning torch stand for the education imparted in this college, which challenges the students to live up to the college motto : LET YOUR LIGHT SHINE (Matthew : 5.16) by their learning and good example so that they may become beacon-lights of hope and liberation to others.