Electrical and Electronics Engineering
The Department of Electrical and Electronics Engineering was established in the year 2010. The department offers a 4-year Under-Graduate Programme, B.E.Electrical and Electronics Engineering with a sanctioned intake of 60. It has been accredited by National Board of Accreditation (NBA) and AICTE, New Delhi in 2019-22.
The objective of the Department is to transform students into globally competent Engineers who are prepared to meet the needs of the society and adapt to the changing technology in various fields of Electrical and Electronics Engineering.
The Department has a well-qualified, experienced, and dedicated team of Eleven faculty members with specialization in various fields like Power Systems, Power Electronics & Drives, Applied Electronics, and Energy Engineering. Five of our faculty members are doctorates with Ph.D., qualification and six of them are pursuing Ph.D. One faculty member is a recognized Research Supervisor by Anna University. Faculty members publish research papers in National and International conferences and journals.
The Department houses state-of-art laboratory with modern infrastructure and high-end equipment. It has established Industry-Institute Interaction, for students to undergo in-plant training, internships, industry specific projects in India and abroad during their course of study. It has the credit of consistently producing good number of university rank holders every academic year and also holds a good placement record. 
The Department organizes Industry Academia Connect, Industry Conclave, Value Added Courses, workshops, seminars, Guest lectures, Industrial Visit, Symposiums, Technical contests etc. with Industries /companies to enable the students and faculty to update themselves with the latest developments. The students participate and garner exposure by participating and winning in  International and National contests. 
To transform the students into globally competent electrical engineers, researchers, and entrepreneurs, and thereby contributing value to the technological needs of the society.
LICET : ELECTRICAL AND ELECTRONIC ENGINEERING
To equip the students with advanced knowledge and technological skills to cater to the needs of Industries.
To enable students to create and develop innovative engineering applications for the benefit of Marginalized communities.
To enable students to become responsible citizens with a willingness to make a Positive difference to society through their education.
PROGRAM EDUCATIONAL OBJECTIVES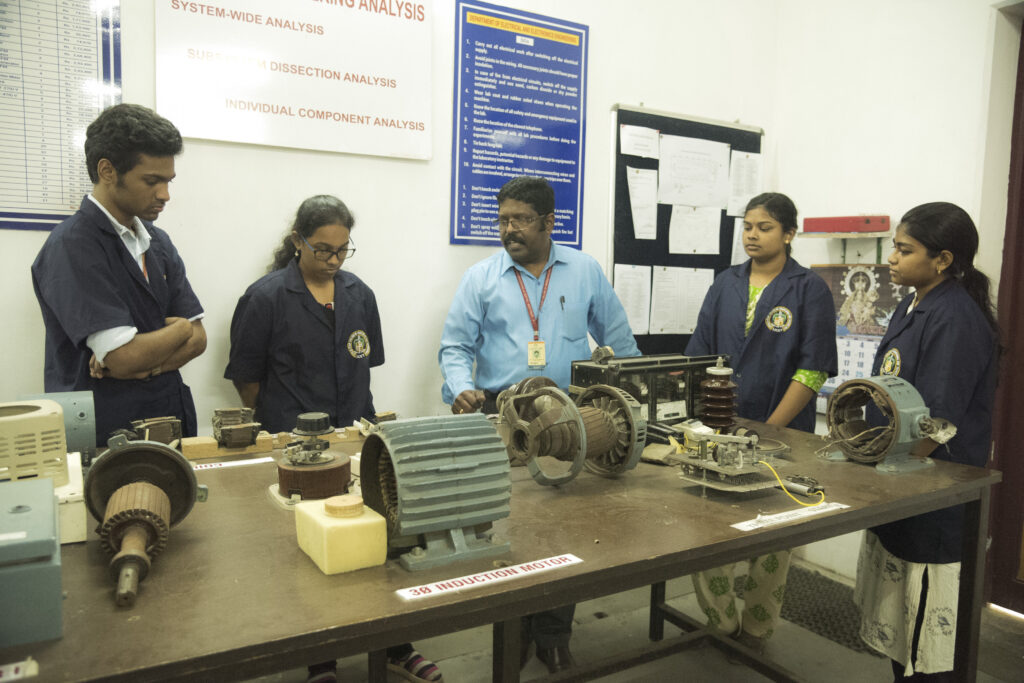 Graduates are prepared to have successful career in industry, research areas and motivation for higher Education and to provide an opportunity to work in inter-disciplinary groups and to become future Entrepreneurs.
Graduates will possess necessary foundation on computational platforms and software applications in electrical engineering that will continue to develop their knowledge and skills throughout their career.
Graduates will inculcate professional ethics and instill social responsibility to work in teams for the welfare of the society and fellow countrymen.
PROGRAM sPECIFIC OUTCOMES
PSO 1: Use technical and logical skills to model, simulate and analyse the working principle, control, reliability of electric components, circuits, and systems that are forming part of power generation, transmission, and distribution.
PSO 2: Ability to apply the fundamental engineering concepts to solve real-time problems using engineering software tools such as Electrical modelling software, Open-source alternatives, Virtual labs, RT Lab, and suitable algorithms 
PSO 3: 
Adapt to emerging technologies like sustainable energy, electric mobility, and industrial automation to stay current with emerging trends in the industry 
"Talented Faculty with rich experience"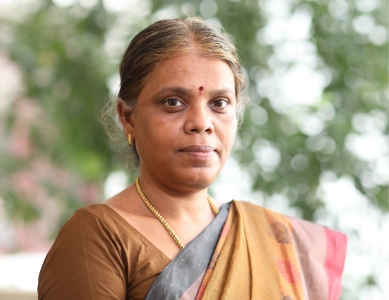 Dr Prathiba R, has over 26 years of teaching and 12 years of research experience. Her research interests include Deregulation, Static and Dynamic Transfer capability, Power system stability and Soft computing techniques. She has published papers in national and international peer-reviewed journals and presented papers at national and international conferences.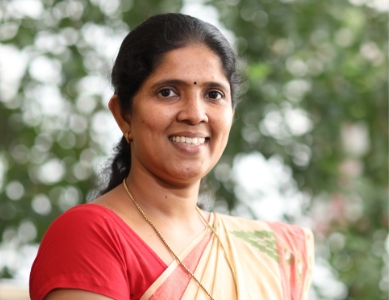 Dr A Inba Rexy completed her Doctorate in Electrical Engineering from Anna University. She is skilled in power converters, design of interleaved boost converter, renewable energy systems, and Matlab Simulink and has 13+ years of professional experience with the history of working in renowned engineering institutions. She has also authored a number of research papers and published in different International Journals.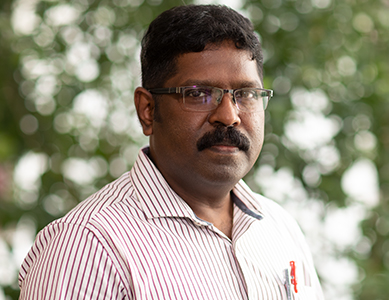 Dr.I.William Christopher holds Ph.D. in Electrical Engineering from College of Engineering Guindy, Anna University, Chennai and he has a teaching experience of 16 Years and 2 Years of Industrial experience. He is a recipient of IET (UK) YPS Young Teacher Award from IET(UK) Chennai Network for his contribution towards the profession and IET. Presently he is guiding two Ph.D research scholars under the faculty of Electrical Engineering, Anna University.