All India Catholic University Federation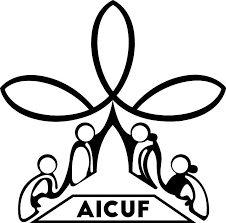 The All India Catholic University Federation (AICUF) is an organization of Catholic university students. The movement was started in 1924, at St. Joseph's College, Tiruchirappalli by Rev. Fr. Carty, SJ. Currently it operates in 15 states of India. The organization is affiliated to Pax-Romana, an international association of catholic professionals.
The AICUF's vision is "to sensitize students towards those at the margins and involve ourselves in the struggle for their basic rights by equipping ourselves physically, intellectually and spiritually while networking with NGOs and peoples' movements."
AICUF in LICET is a new initiative in the academic year 2022. In the state, the first Engineering college which has AICUF unit is LICET.  AICUF was inaugurated on the 18th of February 2022. We the AICUFers came together for electing the executive members (Office Barrers) for the academic year 2022-2023. The State Advisor Rev. Fr. Parthasarathy SJ gave an introduction about the leadership qualities that a leader should possess in order to lead and guide our unit in the upcoming year. Then the volunteers enrolled their names for various responsibilities and the Election was conducted by the state council team. 44 members participated in this election meeting.
"We are born in an "Unjust Society" and we are determined not leave it as we have found it!"
AICUF aims at making student sensitized about several social issues and injustices done to the marginalized sectors.
To help students evolve spirituality rooted in God, this integrates contemplation and action and promotes humanization through praxis: involvement-reflection-evaluation- action.
To enable students to develop a critical awareness and analysis of the Indian and world situation, to cultivate a deep and genuine concern for the oppressed and marginalized and to effectively commit themselves to the task of building a new and just society.
To help students evolve spirituality that has humanization as its core through involvement and reflection.
To motivate students to become involved in studies, research and activates linked to broader social issues and struggles with a view to becoming a creative and critical force within the university.
AICUF is committed to social justice and encourages it through action on every possible platform.
Encouraging towards social justice through thought provoking action. Getting sensitized about social issues and injustice done to the marginalized sectors.