Faculty and students of the department have been instrumental in developing and maintaining software applications ranging from Performance Evaluation System, Apps for Education, Learning Management System (Moodle), Enterprise wide Content Management System and various other campus wide networking activities. The department organizes National level technical events and competitions like Oracle Technology Network (OTN) Yatra and Srinivasa Ramanujan Mathematical Competition (SRMC).
The students of the department have brought out a number of innovative projects such as Project AR Labs, Implantable Hearing Machine, Project MicrOS, etc. The software team of the Department has made laudable contribution by developing software for campus management, attendance help line and on-line test. Many of the students are well placed in leading software companies such as Infosys, Tech Mahindra, SAP, Vernalis etc. As part of the MoU with ICAM, France, every year around 10 to 15 students along with a faculty member are sent to ICAM campuses at France to complete technical projects.
Ms. S. A. Josephine is a faculty of Mathematics with over 20 years of teaching experience. She takes interest to motivate and guide students. She believes in working together as a team. She is an energetic and hard-working person who strives for success and perfection in every work she does. She completed her Under graduation and Master's in Mathematics from Stella Maris College, University of Madras in 1996 & 1998 respectively. She then completed her M.Phil. in Mathematics from Loyola College, University of Madras in 1999. She is currently pursuing her Doctoral degree in queuing models in Anna University.
Email ID: hodsh@licet.ac.in
annchristiana.t@licet.ac.in
Ms. Ann Christiana T has 19 years of experience in higher education sector though has a longer spell of teaching experience. She has done her post-graduation in English literature at Sarah Tucker College, Madurai – Kamaraj University and Master of Philosophy from Alagappa University. She also has a Bachelor's Degree in Education from Madras University. Her area of interest is linguistics.
Ms. R. Nilavu has done her M.A., M.Phil. She has also completed PGDTE from English and Foreign Languages University(EFLU), Hyderabad; and has also qualified State Level Educational Testing(SLET). She has 18 years of experience in teaching English to engineering students. Her research area includes usage of Information and Communication Technology in English Language Teaching. A qualified BEC trainer, she also possesses considerable experience in IELTS script marking for Reading and Listening. Her areas of interests include Teaching English through Literature, Collaborative Language Teaching, Classroom-based Action Research and Teaching English using Learning Management Systems. She has also published books and research articles in Journals.
mariocassionanand.a@licet.ac.in
Mr. A. Mario Cassion Anand has specialized in ELT and Sub Altern Literature. He has five years of teaching experience in teaching English to Engineering students with enough exposure to Information and Communication Technology based English Language Teaching. His areas of interest includes ELT , Sub Altern literature and Eco- Criticism.
Ms Kirupa A has been working in LICET since 2011. Her area of research is Fuzzy Logic, specifically with Fuzzy Graphs for the past 2-3 years. She has published papers in National and International Journals as a contribution to research.
Mr Arulselvam B completed his Master's and Master of Philosophy in Mathematics from Sacred Heart College Tirupattur. He has been a faculty of Mathematics department with eight years of teaching experience. His area's of interest includes Linear Algebra and Differential Equations.
shenbagadevi.s@licet.ac.in
Ms S Shenbaga Devi graduated from Fatima College with bachelors degree in Mathematics, Loyola College with Masters degree in Mathematics along with Master of Philosophy in Mathematics. She is a faculty of Mathematics over 7.5 years of teaching experience. She is specialized in Graph theory and her area of interest includes Graph theory and Operations research.
Dr. Mike Dison E  graduated from Loyola College with bachelors degree, Masters degree and Master of Philosophy in Mathematics. He received his Doctor of Philosophy in Mathematics from University of Madras in 2019. His research interests lie in the area of Linear Algebra, Fuzzy Mathematics, Decision Making Theories and Differential Equations. He also qualified the state level eligibility examination for Assistant Professor in Mathematics conducted by the State Government of Tamil Nadu.
Dr Caleb received his PhD degree from University of Madras for his work on structure of hot rotating nuclei. He was a recipient of the CSIR Fellowship. He has published 4 papers in International Journals and over 20 in conference (both National & International) proceedings. Dr Caleb has 25 years of teaching experience.
Dr. Tomy Scaria studied physics from Pondicherry University (M.Sc.), University of Madras (M.Phil.) and S.N. Bose National Centre for Basic Sciences (Ph.D.-Jadavpur University). His specializations include High Energy Physics. He has taught the Physics course of ICAM for French students visiting LICET every year since 2014. His research Interest: Theoretical aspects of elementary particle physics and mesocscopic physics.
maryjaculine.m@licet.ac.in
Dr. Mary Jaculine has a doctorate and an M.Phil in Physics. She taught Physics in rural setting at Annai Velankanni College , Kanyakumari District from 1991 to 2001. Subsequently she moved to Chennai and worked at Jeppiaar Engineering College as senior Lecturer and later as Assistant Professor at Velammal Engineering College, Chennai.  She has published 5 h-index and 4 i-10 index articles.
shreemeenakshik@licet.ac.in
Dr Shree Meenakshi. K has completed her Ph.D. from the College of Engineering (CEG), Guindy, Anna University, Chennai. She was awarded Senior Research Fellowship (SRF) by Council of Scientific and Industrial Research (CSIR), Government of India, after successfully clearing the interview in New Delhi. She has been actively involved in the development of polymer nanomaterials for advanced aerospace and high-performance applications. She has also worked in Department of Science and Technology (DST) sponsored projects as a research fellow in the development of advanced nanocomposites for the aerospace industry. She has published several research articles in Springer, IEEE and Elsevier journals. She has also authored ten books along with a book chapter published by Springer, Verlag, Heidelberg, Germany. She has presented her research work in numerous national and international conferences.
Dr. G. Kavitha  specializes in General Chemistry. She completed her Ph.D from University of Madras and has 11 years of academic experience. Her research interests lie in the area of Physical and Inorganic Chemistry. She contributed 9 publications in International journals and also presented the research work in 4 National and International conferences.  She qualified the state level eligibility test (TNSET) for Assistant Professor in Chemistry conducted by the State Government of Tamil Nadu.She has also taught the Chemistry course for french students in LICET-ICAM Exchange Programme.
reetacarolin.c@licet.ac.in
Ms L. Reeta Carolin has finished her UG in Stella Maris College and PG in Loyola college. She has done her M.Phil in Bharathidasan University , Trichy and finished her B.Ed in IGNOU. Currently she is pursuing her Ph.D at Anna University and at the verge of completion. She has an experience of about 8.5yrs. She has published a paper in the "Journal of Material Science Materials in Electronics".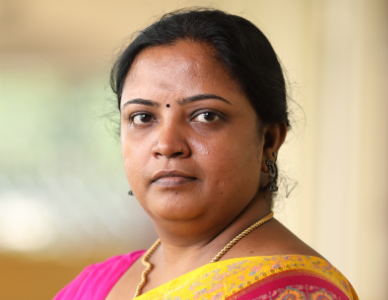 Lab Instructor – Chemistry